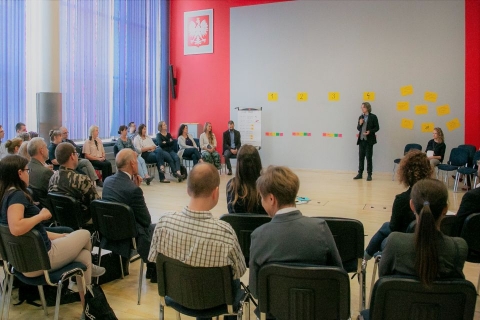 Education Centre is a unit of the Open University at the University of Silesia. It supports students, doctoral students and employees in development and expansion of their teaching perspectives – transition from the culture of teaching to the culture of learning.  
This is a unit based on the conviction that it is required to redefine didactics and subjectivity of student and teacher, promote education that provides support both to academics and school teachers. It is a space for promoting good practices in the field of education and exchange of thoughts, and experiences. The newly established centre consists of several units and teams. It was within these activities that ideas important for us, connected with learning, educational mission of the University and philosophy of learning as a relationship, began to grow.
At the same time, the primary task of Education Centre is to search for solutions for the University of Silesia in the period of online education. Therefore, based on our experience, we created the digital knowledge base for you. At the same time, we want to create a platform enabling to exchange teaching tales, consult our doubts and disseminate good practices in this respect.
We would like to build a lively educational space. Feel invited!
Education Centre areas of activity:
Academic Education Centre

Open Education Meetings

Cooperation with the Doctoral School in the field of university education

Teaching trainings for academic staff

Support of distance learning at the University of Silesia
School Education Centre
University of Silesia for teachers

Teachers' Education Block
https://www.centrumdydaktyki.us.edu.pl/