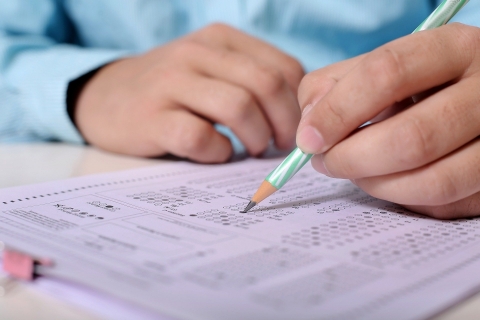 Rules for conducting remote credits and exams in academic year 2020/2021
1. The winter exam session start date was defined in Ordinance on the organisation of academic year 2020/2021.
2. Exams and credits are conducted remotely using the following IT tools:
1) platform – Microsoft Office 365 (including Teams, Skype for Companies);
2) platform – Moodle.
3. The form of conducting online exams and credits should:
• enable verification of the assumed learning outcomes;
• not lead to reducing the requirements and ensure equal requirements for students taking the exam;
• minimise the risk that the exam is taken with help of other people.
4. Verification of student's identity takes place:
• on platforms – using a standard logging mechanism for the relevant service (login and password) or
• by sharing a camera image (producing student record book or other document with a photo – if there are any doubts concerning the student's identity).
5. Written exams can be prepared, in particular, in the following forms:
• tests (quizzes) with closed or open questions;
• open tasks or written papers sent in the form of files. In such a case, the content should be determined in detail. Moreover, the name pattern (e.g. module_index-no.), file format and size should be stated.
6. The following forms can be used when preparing a set of questions in order to minimise the risk of student using the help of other people:
• creating a bigger number of questions and drawing different sets of questions;
• mixing the order of questions in a test;
• defining the maximum time for test performance;
• providing the password right before the beginning of the exam.
7. The rules for conducting exams should be individually adjusted to the needs of students with special educational needs.
8. The contact details of individuals providing technical and equipment support are available HERE.